Unlocking the API Puzzle: Navigating Shortages and Ensuring a Stable Supply Chain with DKSH
May 23, 2023
APIs, or Active Pharmaceutical Ingredients, are crucial components of medications that deliver therapeutic effects. These are the biologically active components of medicine that allow it to function. We are all aware that producing an API is a complicated process involving numerous multiple steps and raw materials. If one stage fails, the entire global supply chain might be disrupted. According to EFGC, a powerful European association representing fine chemical manufacturers, global pharmaceutical demand is expected to grow by 4% per year by 2025. That indicates that there is a great need for a solid and stable API sourcing and supply chain. However, in reality, sourcing APIs has become more challenging due to a shortage, leading to disruptions in the supply chain in recent years.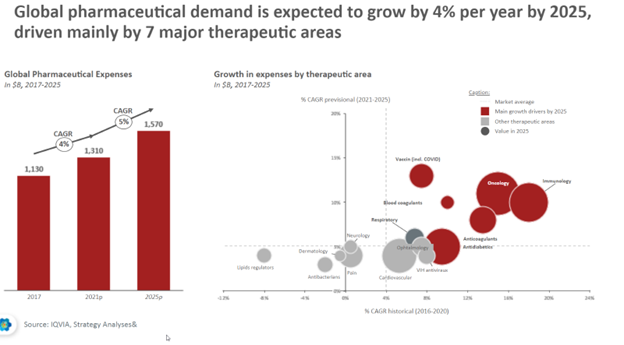 The EU used to hold a strong position as an API producer, however, it has lost that position mostly driven by cost prize pressure. The part of API production has progressively shifted to Asia where manufacturers are specialized in high volume, and low margin production. APIs from Asia, primarily India and China, fill 70-75% of the EU market. In fact, China accounts for about 70% of total Asian reliance.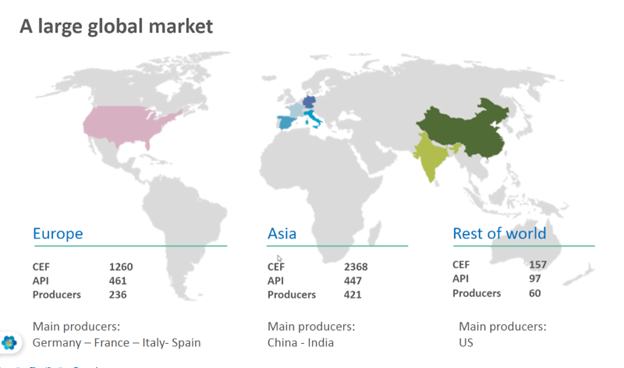 The second reason leads to the fact that Asian plays a bigger part in the industry is because some technologies necessary to build a multiplicity manufacture of an API are either rare or completely unavailable in the EU. Key API production processes and technologies such as fermentation, fluorination, chlorination and nitration, have entirely or partially moved to Asia, depriving the European API value chain of critical mass.
As a result, the closure of facilities in China due to Covid exposed the weaknesses of the pharmaceutical supply chain. Covid is not, of course, the sole cause. Regulatory constraints, a lack of production capacity, geopolitical conflicts, and environmental factors have all contributed to the EU's strategic API scarcity during the last 2-3 years.
The lack of APIs has impacted the entire pharmaceutical industry, from big pharmaceutical companies to smaller generic medication manufacturers. The shortage has led to price increases, medicine rationing, and even the discontinuation of certain over-the-counter medications. For example, DEXTROMETHORPHAN HYDROBROMIDE, an active ingredient used in cough suppressants, is sourced mostly from India. Similarly, China is the primary source of sustainably sourced agents such as RHEUM PALMATUM EXTRACT and MOMETASONE FUROATE MONOHYDRATE, which are widely used in the treatment of pain and inflammation. Because of the epidemic, their supply chain has been disrupted, resulting in shortages of these APIs. Cough suppressants and pain relievers used to be easy to get in any drugstores, but this has changed in recent years.
Potential Solution
To assure the supply chain, there are two main options.
Reshoring production in the EU through the use of new, less costly, and greener technologies. Despite the fact that raw materials and the majority of API are sourced from Asia, innovative API is still produced in EU countries. As a result, the EU will be able to restore its glory if it invests wisely in new technologies. The biggest EU markets include Germany, France, Italy, and Spain. Other ways to express it:
Promoting a creative, competitive, and long-term European offer
In public tenders and price policies, level the playing field and encourage sustainable production.
Funding greener and more efficient manufacturing practices along the value chain.
Locate a dependable API producer to ensure a sustainable supply chain in Asia. Working with manufacturers who are upfront about their procedures and have a track record of dependability is critical. This can aid in avoiding scenarios in which a disruption in one place has repercussions throughout the global supply chain.
In both cases a pharma distributor with presence in local markets is necessary for advanced intermediates (for EU API producers) and for API's with high quality standard. The pharma distributor must sign agreements with the local producers to for long term distribution maintain the supply chain under GDP conditions.
DKSH can help you.
DKSH, a leading Market Expansion Services provider with a strong presence in the pharmaceutical industry, can provide many solutions to assist companies in navigating through the challenges of the shortage of Active Pharmaceutical Ingredients (APIs).
DKSH can assist clients by utilizing our large supplier and manufacturer network. For example, we work with Oneiro Chemicals Private Limited to help clients in need of DEXTROMETHORPHAN HYDROBROMIDE. DKSH also collaborates with HUNAN HUAKANG BIOTECH to provide RHEUM PALMATUM EXTRACT for the treatment of pain and inflammation. DKSH specialists can assist businesses in evaluating various sources and ensuring that quality and compliance criteria are satisfied. Our regulatory and compliance knowledge will assist organizations in navigating complicated regulatory requirements in many areas. Furthermore, we offer tailored solutions to improve clients' supply chains, resulting in shorter lead times, as well as provide industry insights to assist businesses remain ahead of the competition. Contact us to DISCOVER how we can help your company grow!
Authors Bio -Jordi Parés
Local Business Line Manager-Pharmaceutical Industry, Spain
With more than 25 years of experience in the Pharma industry and 16 years in DKSH.
His current job responsibilities comprise of varied of activities involving strategy development, portfolio management, product positioning into market, opportunity pipeline development. He manages directly or through sourcing team the contact with main partners for API, excipients and intermediates.
Sources:
"Building Supply Chain Integrity and Resilience". Gildas Barreye & Dirkjan vasn Zoelen. CphI Webiar series https://www.cphi-online.com/cphi-webinar-series-building-supply-chain-page000542.html
European API's Producers: Key Role in the Future Scenario of Health System. Gian Mario Baccalani. Chimica Oggi, vol. 40(1) 2022