Polysorbate 80(HX2)™: Elevating Standards in Vaccine Development and Injectable Formulations
Sep 1, 2023
What is Polysorbate 80?
Polysorbate 80 is non-ionic moiety used to solubilize amino acid assemblies and proteins in injectable formulations and biologicals.
Specifically, polysorbate 80 plays an important role in vaccine development. It forms amphiphilic nanoparticulate structures around vital spike proteins and causes B cell activation through a trafficking mechanism.
NOF Corporation:
NOF Corporation, a chemical manufacturer founded in 1937, has consistently expanded its operations in multiple sectors. The Functional Chemicals division, one of its primary business lines, provides a wide range of high-quality products and chemical ingredients. These include surfactants, petrochemicals, advanced polymers, blocked carboxylic acids, organic peroxides, and many more.
Notably, NOF Corporation's Polysorbate 80 (HX2)™ stands out as the number one quality product in the world among Polysorbate 80s. DKSH PM takes great pride in partnering with NOF Corporation to distribute this remarkable chemical, further strengthening its commitment to delivering excellence in the industry.
Polysorbate 80(HX2)™ from NOF CORPORATION
Polysorbate 80(HX2)™ is a ultra purity product of the highest quality in the world, with extremely low aldehyde and peroxide levels.
Structure:

Advantages and characteristics of Polysorbate 80(HX2)™ in vaccine development:
Carries extremely low aldehyde and peroxide levels.
Non-ionic surfactants facilitate the solubilization of proteins.
Triggers less histamine release and cell cytotoxicity.
Advantages and characteristics of Polysorbate 80(HX2)™ in injectable formulations:
Vegetable source (no animal source)
Ultra-pure Products
Low Impurities
Low Peroxide
Colorless and odorless
High Stability
Low allergic reaction (low degranulation)
High Safety Features (Low Cell Toxicity and Hemolysis)
Multi-Compendial (NF (USP), EP, ChP, and JP)
Other benefits of Polysorbate80(HX2)™
Polysorbate80(HX2)™ can be used as an emulsifier and solubilizer for peroxide-sensitive drugs to avoid oxidation or degradation because of its low peroxide feature.
Furthermore, because of its high safety characteristics, the concentration of Polysorbate80(HX2)™ can be increased for poorly water soluble drugs. In rat research, Polysorbate80(HX2)™ triggers less histamine release from rat mast cells compared to conventional Polysorbate 80 formulations. The latest in-vivo dog study also indicates less histamine release from Polysorbate80(HX2)™. The great property of low allergies allows clients to utilize medicinal formulations with confidence.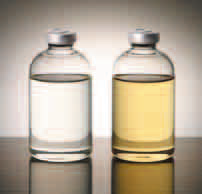 NOF PS 80 vs Conventional PS 80
Due to these exceptional properties, Polysorbate80(HX2)TM is acknowledged as a worldwide standard product in the pharmaceutical industry, particularly for parenteral formulations, due to its exceptional properties.
If you're interested in Polysorbate80(HX2)™, please contact us or request a sample and quotation online through the DKSH Discover platform.

Biography
Dr. Sachin S. Salunkhe is an experienced professional with over 10 years of industry expertise in formulation research and business development. He is currently serving as a manager in technical business development at DKSH India Pvt. Ltd. His expertise is in pharmaceutical excipients, nutraceuticals, and biological solutions for the Indian and South Asian markets. Dr. Sachin holds a Ph.D. from the Department of Engineering and Pharmacy at Bharati Vidyapeeth and has significant experience with complex generics, protein, and peptide-based drug delivery systems. He also has a US and Indian patent in drug delivery and has contributed to over than 20 international publications.