DKSH and Refarmed, Enhancing Strategic Synergy to Expand API Offerings
Jul 21, 2023
Refarmed Chemicals, a distinguished name in the API business, has now officially become part of DKSH Group. This strategic integration aims to provide a wider range of APIs to the market and bring more value to customers.
Founded in 2001 in Switzerland, Refarmed has a long history of establishing itself as a leading provider of high-quality and innovative APIs. Refarmed has its own sourcing organization in India, a strong partnership in China, and a significant presence in Turkey, Japan and North Africa. The company offers API full-service distribution that is supplemented by value-added services such as co-development, which requires advanced knowledge and skill in chemistry, engineering, and process development.
Additionally, the company applies business engineering philosophy and practices to its API development and production processes to optimize efficiency, reduce costs, and ensure quality. In today's context of API shortages and economic downturns, this approach becomes even more valuable because it helps the organization develop and maintain long-term mutual trust with all supply chain players.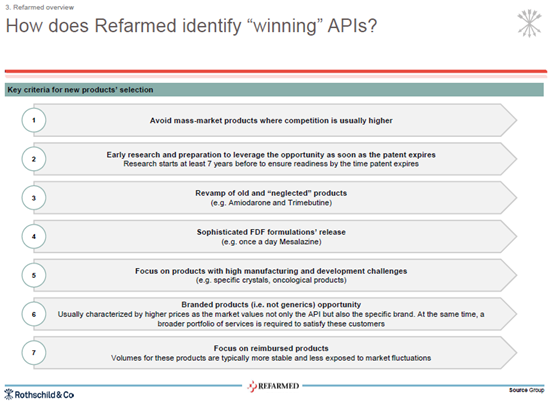 Leading APIs from Refarmed, including Indapamide, Mesalazine, Ketoconazole and more, accounted for an estimated 40% of the company's total revenues in 2020. Of particular note is their market dominance in the USA with Bexarotene. For more details, you can find them more here.
By being a part of DKSH, a global Market Expansion Services provider, Refarmed and DKSH can now further enhance the quality of our APIs and expand our market presence worldwide. The collaboration could offer a strong management team with industry experience, a significant focus on innovation, a track record of strong top-line growth and profit expansion, cost savings and operational optimization, and geographic diversification in sourcing and distribution.
Authors Bio - Dr Loris Cereda
Role - Director Business Development, Switzerland
Contact - [email protected]