Aqualon: Sodium Carboxymethylcellulose and its attributes in Ophthalmic formulations
Apr 10, 2023
Aqualon, a brand of sodium carboxymethylcellulose (CMC), has proven to be a popular ingredient in ophthalmic formulations due to its unique attributes. Sodium CMC is a water-soluble polymer derived from cellulose, with low viscosity and low molecular weight, and a degree of substitution of 0.7.
One of the key attributes of Aqualon CMC 7LF PH BET is its rheology. The polymer helps to maintain thixotropy of the system, including the solute and solvent throughout the process. This means that particles remain suspended, and the action of viscosity modification occurs at a fast rate and remains for a longer period of time. Additionally, the time required for solution/suspension is less if we follow the proper agitation process and temperature. This attribute makes Aqualon a valuable ingredient in ophthalmic formulations that require stability and uniformity.
Another attribute of Aqualon and Blanose is that they offer low endotoxin and low bioburden. This is particularly important in ophthalmic formulations, as the eyes are a sensitive area that is prone to infection.
Sodium CMC [Blanose 9M31XF-PH], in particular, is a fine grade that gives a smooth texture to the solution, so issues of compatibility and stability with reference to precipitation do not evoke upon storage period. This attribute makes it an ideal ingredient in ophthalmic formulations that require stability and compatibility.
Aqualon also adds value for more moisturization and prevention of tear film break up after administration into the eyes. This makes it an ideal ingredient in eye drops and other ophthalmic formulations that require moisturization and hydration.
Particle size is also an important attribute of Aqualon. It is available in the form of regular, coarse, and fine grades ranging from 75 microns to 1000 microns. This means that optimization is at ease with respect to formulation requirements.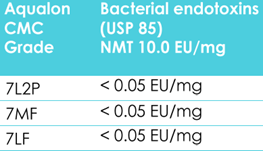 The degree of substitution of Aqualon also has a direct impact on its properties. The degree of substitution affects solubility, emulsification, rheology modification, stability, acid resistance, and salt tolerance. Emulsifying properties goes on increasing upon increase in degree of substitution from 0.7 to 1.2. Furthermore, with an increase in the degree of substitution, other properties like resistance to acids and salts can be remarkably enhanced.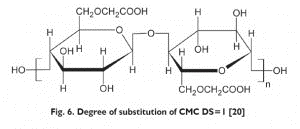 Finally, Ashland offers technical support for deformulation, QBD samples, and supporting documents such as viscosity trend data. This makes it an ideal ingredient for pharmaceutical companies looking for a reliable and effective ingredient for their ophthalmic formulations.
In conclusion, Aqualon CMC offers several attributes that make it an ideal ingredient in ophthalmic formulations. Its rheology, low endotoxin and low bioburden, smooth texture, moisturizing properties, particle size range, and degree of substitution make it a versatile ingredient that can be optimized for different formulation requirements.
Authors Bio -
Dr. Sachin S. Salunkhe is having more than 8.5 years of industrial experience in Formulation research and Business development with 4 years exclusively research experience in development of lipid based fomulations for drug delivery to brain. He has been working as Manager, Technical Business development in DKSH India Pvt Ltd for across INDIA and some extent to South Asia. He is representing techno-commercial factets with all its essentials and nitty-gritty in domain of Pharma excipients, Nutraceuticals, Biological solutions etc. His current job responsibilities comprises of varied of activities involving strategy development, portfolio management, product positioning into market, opportuntiy pipeline development, following current vibrant marketing trends and techno-commercial support. Currently, successfully completed Six Sigma Green Belt certification course with leveraging coverage for Operation Excellence and Effective leadership principles in corporate affairs. He has expertee in the area of formulation development of complex generics involving injectable products; solid oral and extending to biopharmaceuticals, protein and peptide based drug delivery systems for delivery to brain and cancerous tissues. Prior to DKSH, he had assignemnts with Cipla Ltd, Mumbai for 3 years and Emcure Pharma, Pune for 1 year in department of Formulation development NDDS (SMEDDS, microsphere, cochleates and liposome based injectable formulations).
He had awarded with Ph.D. in Nov 2015 by Bharati Vidyapeeth from Department of Engineering and Pharmacy. Did post graduation diploma in intellectual propety law from New Law College Pune in 2010.
Have 1 US and 1 Indian patent in drug delivery and more than 20 intenational publications with cumulative impact factor of more than 12, Reviewer for Journal of Nanoparticle Research and Royal Society of Chemistry Advances.